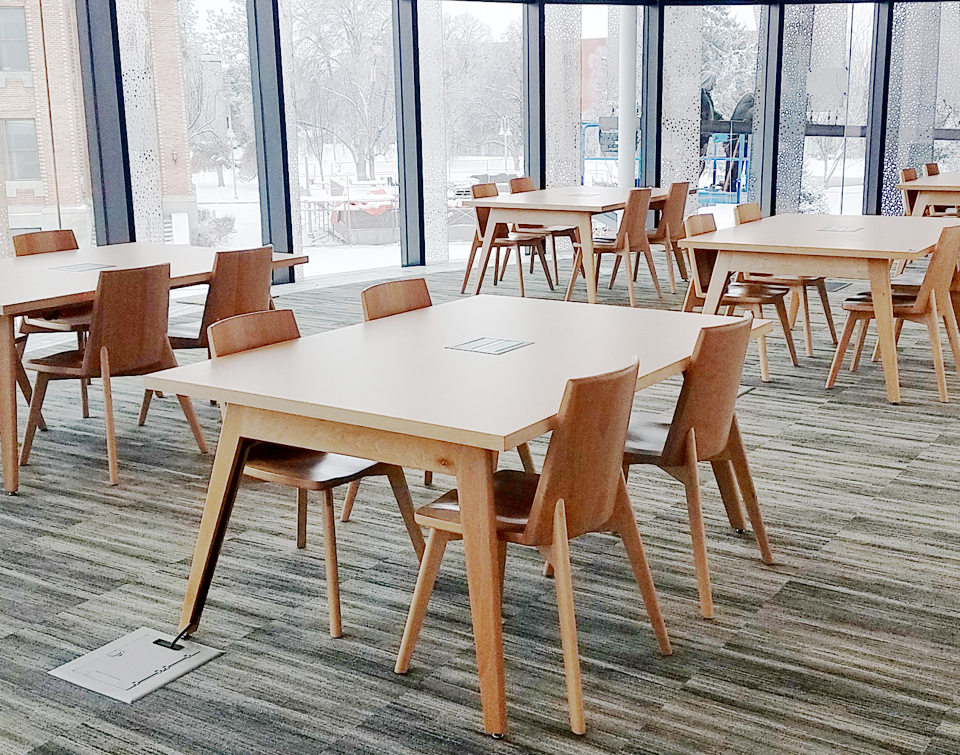 Seating is a crucial part of every library. From people stopping by to check email, students spending a whole day studying, or patrons swinging by to read a book, the list of needs is long. And it's important to have the best seating options available to support the people using your space.

So as the fifth and final part of our Library Seating series, we wanted to address a few of the most common questions we receive about library chairs. If you haven't read through the rest of the series yet, below are some links to each of the previous articles:

Part 1: The History of Seating & The Science of Posture
Part 2: Furnishing a Space: How to Observe & Investigate Patterns of Use
Part 3: Selecting the Right Chairs: Pairing Furniture That Fits Activity Patterns
Part 4: Combining Form & Function: How to Make a Library Feel Welcoming Through Intentional Seating

Here is our Library Seating FAQ that may address some questions you've had as you evaluate the seating options currently available in your space:

What type of seating would you recommend for students at a university library who are doing multi-item work like studying for a long period of time (6+ hours)?

What we've seen has been most helpful to students is giving them the option to sprawl. A lot of times students going through an intense study session like that require a good amount of surface area to spread their materials out on.

There's nothing wrong with the traditional table-and-chair style to meet these needs. This makes it easy to provide the amount of space they'll need. But there are also some unique benching options that you could include in your space to allow students the opportunity to physically spread out if they need to, even laying down for a short while to break up their studies.

It's also often important to give these students the ability to designate space through dividers, whether those are mobile dividers or dividers that attach to the furniture itself. This depends on the amount of students who would be studying in a space at one time, but this is especially helpful for high-traffic study areas.

Is weight a factor in library chair design, or just posture?

Yes and no. As we're designing library chairs, the main goal is to promote healthy posture that supports activity patterns. However, from a structural standpoint, we do have to consider weight. Because we specifically design library furniture for public, high-traffic spaces, we put a high value on the durability and longevity of our seating options to make sure that the piece lasts for years to come. So weight doesn't directly affect the design of the chair, but it does affect the structure.

What type of library seating or seating configuration do you recommend to support patrons with disabilities?

This is a great question that has come up more often as awareness has been raised about various disabilities through media. The truth is that there's not a one-size-fits-all answer to this question. It comes down to the research, observation, and investigation that you do before furnishing a space. This is because everyone's needs are different, and you want to address the needs that are are actually prevalent in your community.

To provide some practical examples, if you are seeing that you have a lot of patrons experiencing sensory overload, we may want to consider creating an environment with more options for them to feel snug and protected (Pod Study Carrels are a great option for this). Or if you're seeing that there is a more of a need to address mobility concerns, we may want to have more options for table-and-chair seating that is adjustable to support patrons who may be confined to a wheelchair.

It's important to address these needs. But it comes down to the research you have done to address the actual needs prevalent throughout your community.

How long does a chair last in a library?

The reality is that it's going to vary depending on the amount of use and the type of use. Traditional wood library chairs will usually last 10-20 years, depending on construction. Nowadays, what has become tricky is that most chairs come with upholstery, which naturally has a shorter life. So what happens is the frame and structure of the chair is in great condition, but the fabric itself wears at a faster rate than the rest of the chair.

The benefit of having chairs that are built specifically for public spaces is that you are able to take them apart and have them reupholstered pretty easily if necessary. So a library chair should last for years to come, but fabric may need to be replaced once or twice throughout the chair's life.
---
Want to learn how to best support your library patrons? Read the whole Library Seating series.